ALEDER FREQUENT FLYER SYSTEM (AFFS)


Who else wants to simplify Frequent Flyer Points
- without additional staff?

Today, most hotels have alliances with airlines for frequent flyer programs. Hotel guests earn points, not only by flying with airlines but also by staying in the hotels. AFFS automates the entire point awarding process for hotel guests. It collects information from hotel system, exchanges data with airlines system and credits points to guests automatically.

It runs on computers with MS-DOS, Windows 95, 98, 2000, and XP.

The Concept


Mr Smith checks into a hotel with a frequent flyer card to receive points after his stay,

The receptionist checks him in as usual and inputs the guest frequent flyer card number onto the computer screen, similar to filling in credit card information.

On the same night...

AFFS data gathering process scans the front office system database and detects the record of Mr Smith with his frequent flyer number, AFFS data gathering then extracts that transaction and other transactions similar to Mr Smith.s, calculates miles for Mr Smith according to his airline membership, room type, market segment, period of stay...etc

Periodically...

The points award transactions of all frequent flyer guests will be generated into a file and submit to the individual airlines for processing.

In a timely manner...

Mr Smith receives a statement from the airline acknowledging points awarded to him.

How AFFS Capture Data


There are two ways of capturing a transaction in the system:

Transactions being captured from FO system. This way, FO staff input frequent flyer information (e.g. airline code and membership number) onto the FO system upon guest check in. AFFS interface will extract the information from FO data and process.
Transaction being created manually using AFFS.


Work Flow
In our example below, Grand hotel is a hotel group with branches in different countries: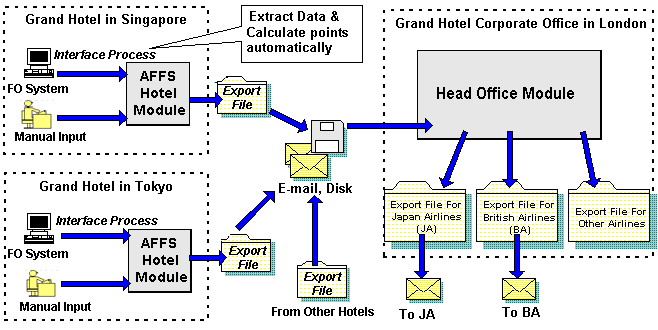 Specification
AFFS consists of two modules, the hotel module & the head office module.



HOTEL MODULE
to be installed in each hotel and perform the following tasks:

Collects frequent flyer guest stay information every night from Front office system.
Calculates points, bonus according to rate, room category, stay period, etc.
Produces comprehensive report.
Processes retroactive claims.
Generates point awards record to Head office module for further processing and submitting to airline.
Easy tracking of problem records.



HEAD OFFICE MODULE
to be installed in Head office and perform the following tasks:

Collects point awards record from individual hotels.
Generates point awards file according to airlines specification.
Produces report for airline programs & hotels.
Reads airline hand back file and produces comprehensive report for award tracking.
Provides tracking of outstanding problem records.